Profiles
Elizabeth Price
Elizabeth Price was born in Bradford in 1966 and grew up in Luton. She attended Putteridge Comprehensive High School and then studied at the Ruskin School of Art, the Royal College of Art and the University of Leeds.
In 2012 she was awarded the Turner Prize for her video installation THE WOOLWORTHS CHOIR OF 1979.In 2013 she won the Contemporary Art Society Annual Award with the Ashmolean Museum of Art and Archaeology. She has exhibited in group exhibitions internationally and has had solo exhibitions at Tate Britain; Chicago Institute of Art; Julia Stoschek Foundation, Düsseldorf; The Baltic, Newcastle upon Tyne; Walker Art Center, Minneapolis; and The Whitworth, Manchester.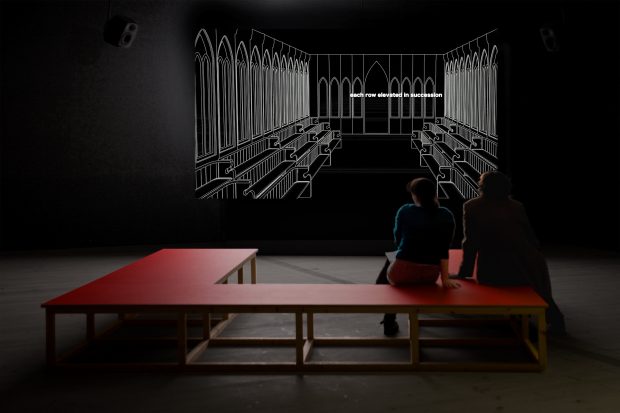 Image: Elizabeth Price, 'CHOIR' installed as part of 'HERE' at the BALTIC Centre for Contemporary Art, Gateshead, 2012.
Elizabeth Price creates short videos that explore the social and political histories of artefacts, architectures and documents. Her works often begin with research into archives and museum collections and always involve a complex process of layering and digital editing – of the written word, the image, sound and rhythm – resulting in works which are formal, immaculate and restrained, but also lush and humorous.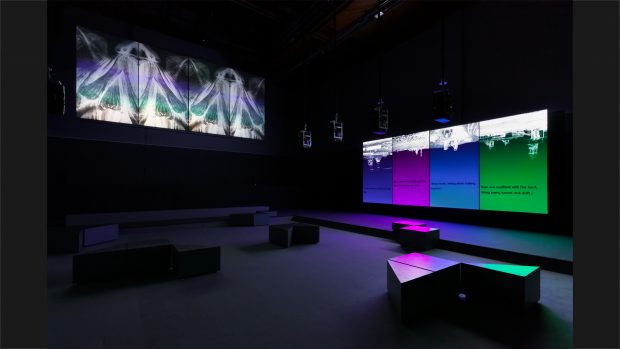 Image Elizabeth Price, 'FELT TIP' installed for 'SLOW DANS' an Artangel project at 82 Borough Road, London, 2020.
Pop music and its technologies are featured often in Price's work and her soundtracks include percussion and songs. This interest in pop is long-standing as Price was a founding member and songwriter for the 80s indie band Talulah Gosh.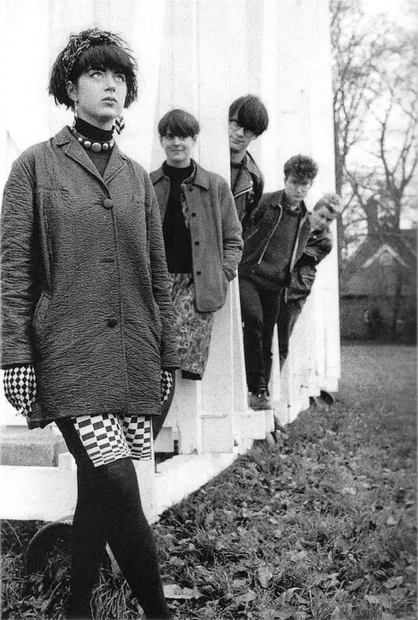 Image: Talulah Gosh (1986), Elizabeth Price, Amelia Fletcher, Chris Scott, Pete Momtchiloff and Mathew Fletcher.
Simon Bedwell
Simon
Bedwell
 is an artist whose work has encompassed painting, collage, photography, curating and publishing, and recently ceramic sculpture. Involving collisions of caricature and politics, formalism and the carnivalesque, it has followed a trajectory established by his collaborative art group BANK (1991-2003), whose sprawling, sensuous curated installations included a fake tabloid newspaper and a service correcting gallery press releases.
Simon
Bedwell
 (born Croydon, 1963) lives and works in London. He has exhibited widely throughout the UK and internationally. Recent solo exhibitions include 
The Entertaining Mr Bone
 (Depimlico Projects, London, 2019) and 
No
 (Piper Keys, London, 2016) and he was part of the group exhibition 
In a Dream I Saw a Way to Survive and I Was Full of Jo
y at Whitworth Art Gallery in Manchester (2016). In July 2011 he curated a series of five weekend exhibitions and events called
The Hole, 
which had the strap line 'The Hole is for art, not art history'. BANK currently have a solo show 
Status Quo 
at Neu Gallery, Berlin. Lenz Press published 
The Bank Fax-Back Service 
in 2021.
Katrina Palmer
Katrina Palmer's artworks employ everyday objects, found sites and storytelling. Her exhibitions include Hello Retreat (England's Creative Coast, 2021), The Time-Travelling Circus (Temple Bar Gallery, Dublin, 2018); The Coffin Jump (Yorkshire Sculpture Park, 14-18 NOW, 2018); The Necropolitan Line (Henry Moore Institute, Leeds, 2015); and End Matter (Artangel with BBC Radio 4, 2015).
Palmer's writing is featured in multiple publications including twice in the influential Documents of Contemporary Art series, Whitechapel Gallery/MIT (2013, 2021). Among her solo publications are The Fabricator's Tale (Book Works: London, 2015) and The Dark Object (Book Works: London, 2010).
Palmer received the Paul Hamlyn Award for Artists, 2014. She lives in London where she teaches at the Slade School of Art.
Laura Grace Ford
Laura Grace Ford is a London-based artist and writer concerned with the politics and poetics of place. Drawing on cognitive mapping, hauntology and the dérive, her multidisciplinary practice is a mapping of the spatial unconscious with a current focus on sound and fiction.
Ford has an MA in Painting from the Royal College of Art and completed a PhD (Threshold Cartographies:The Poetics of Contested Space) at the RCA in 2020. In 2013 she was Stanley Picker Fellow at Kingston University. She is author of Savage Messiah, (Verso 2011) and her writing has appeared in many journals and magazines including Frieze, The White Review, Afterall, Guardian, Dazed and Art Review.
Her work has been shown at a range of venues including Coventry Biennial; BAK Utrecht; Baltic, Gateshead; TCU Texas; CCA Glasgow; The Showroom, London; Tensta Konsthall, Stockholm; V&A and Tate Britain. She is currently a Somerset House studios resident and tutor at Goldsmiths University.
Joseph Noonan-Ganley
Joseph Noonan-Ganley's art explores how identity is collaboratively made in the process of interpreting others, being interpreted by others and the integration of these relationships.
Aiming to expand queer sensory vocabularies by complexifying male sexuality, it exposes problems that are cleansed out of contemporary queer culture (e.g. political ambivalence). The works draw from the literary genre of bio-fiction, feminist bodily experience, theories of sexual dissidence and materialist filmmaking.
Noonan-Ganley often takes as artistic material the lives and works of bisexual and homosexual men (Charles James, Gareth Thomas). He openly manipulates the remnants of these artists, designers, sports people, dressmakers and writers. Unearthed materials are remade through filming, sculptural construction and textual experimentation in explicit detail. 
Exhibitions and performances have been staged at The Henry Moore Foundation, Leeds, Syndicate Gallery, Cologne, Yvonne Lambert Gallery, Berlin, Irish Museum of Modern Art, Dublin, and South London Gallery, London. Publishers include Book Works, Ma Bibliothèque, Pilot Press, and Nero Editions.
Teresa Gleadowe
Teresa Gleadowe is a curator, writer and editor with extensive experience in the contemporary visual arts in the UK and internationally. She initiated The Falmouth Convention held at University College Falmouth in 2010 and The Penzance Convention held at Newlyn Art Gallery and The Exchange in 2012 and has developed the ongoing series of Cornwall Workshops held at Kestle Barton on the Lizard peninsula. In 2012 she founded CAST (the Cornubian Arts & Science Trust) based in Helston. She was the Director of Groundwork, a three-year project developed in partnership with Tate St Ives, Newlyn Art Gallery & The Exchange and Kestle Barton, which culminated in a programme of international contemporary art in Cornwall in 2018.
In 1992 Teresa developed the first UK-based MA in curating at the Royal College of Art and directed the programme until the summer of 2006, when she left the college to work freelance. She was Research Consultant and Series Editor for the Exhibition Histories series published by Afterall and has taught on curatorial programmes internationally. She was a Trustee of Nottingham Contemporary from 2006 to 2015, latterly as Chair, and is a Trustee of Kneehigh Theatre and of the Kestle Barton Trust.
Participant Biographies
Samuel Bestwick
Samuel Bestwick is a video artist/filmmaker currently based in Camborne, Cornwall. Though his practice utilises multiple mediums – printmaking, installation, photography etc – more often than not he's drawn to the presentation of moving images. Often employing mythology and local history within his work, he aims to relate these narratives to a present day context. Recently his work has shifted towards the act of looking and, by extension, philosophies surrounding the camera itself.
Peder Clark
Dr Peder Clark is a cultural and social historian of drugs and health in modern Britain, currently based at the University of Strathclyde, Glasgow. A Wellcome Trust Fellowship supports his current research on Ecstasy (MDMA) and the drug's risks and pleasures in late-twentieth-century Britain. More broadly, he is interested in visual culture, class, gender, and everyday life. His work has been published in Cultural and Social History, Contemporary British History, Social History of Medicine, History Workshop Online and Cornish Studies.
As his Cornish first name hints, he has a life-long personal relationship with Cornwall, where his parents and grandparents still live. This relationship has also influenced his historical practice
Rachael Coward
Rachael Coward is an artist and curator working across installation, printmaking and book works. Her interests lie in heritage, language, thresholds and place. She creates environments and interventions that extend and alter a space's intended uses, drawing on discrepancies uncovered and inventing possibilities for its future. 
Recent projects include 'The Gardener's Labyrinth' at Enys House, Cornwall; 'Outside / In', at Back Lane West, Cornwall, and Curator in Residence at CAMP, Plymouth.
She is a Co-Director of CAMP, a member-led network for the creative and visual arts community in Devon and Cornwall. She is also an art educator and facilitator, frequently working with young people and families. She has recently worked with Milton Keynes Arts Centre, Tate and the South West Heritage Trust. She currently lives and works in Cornwall.
Caroline Deeds
Caroline Deeds is a documentary filmmaker whose work is inspired by stories of marginalised voices. With a background in fine art, she has also made films about artists including Turner Prize winners Jeremy Deller and Chris Ofili. She teaches in the Film and Television department at Falmouth University.
Eleanor Duffin
Eleanor Duffin is a visual artist, born and raised in Wexford, Ireland. She currently lives and works in Bristol. Recurring concerns within Duffin's practice are the role of verbal and text-based language in the process of making, the relationship between the female body and traditional sculptural materials, and the nature of co-working with both human and non-human entities.
Her work has recently been included in 'Overburden', Yellowfields Publication (2020); 'A Phantom Limb', MIRROR Gallery, Plymouth (2020); 'Women on the Moon', Klaipeda, Lithuania (2019); 'A Scaffolding', Tique Projects, Antwerp, Belgium (2019); 'Scratch Lab', Caraboo Projects, Bristol (2019). She has participated in international residency programs including: Bemis Center for Contemporary Arts, Omaha, US (2017); Gertrude Contemporary, Melbourne, Australia (2013); and Fire Station Artists Studios, Dublin, Ireland (2010-2013). Duffin is an associate lecturer at PXL School for Fine Art & Design, Belgium, and is currently conducting a practice-based PhD in Contemporary Visual Art at University of Hasselt, Belgium.
Ella Frears
Ella Frears is a poet and visual artist from Cornwall, currently based in London. Her debut collection 'Shine, Darling' (Offord Road Books, 2020) was shortlisted for the Forward Prize for Best First Collection, and the T. S. Eliot Prize for Poetry. She has been poet/artist in residence for Tate Britain, the National Trust, conservation organisation Back from the Brink, K6 Gallery, John Hansard Gallery, The Observatory, and Royal Holloway University physics department, where she was writing about the Cassini Spacecraft. Ella's poems about the St Ives Modernists are currently on display at Tate St Ives.
Lara Goodband
Lara Goodband has over 25 years' experience as an art curator in galleries, museums and unusual places and spaces. She is currently Contemporary Art Curator and Programmer at the Royal Albert Memorial Museum and Art Gallery in Exeter, a position funded by Arts Council England.  
She works closely with artists to curate new artwork inspired by RAMM's collections. This includes Michelle Williams Gamaker's film 'The Silver Wave' inspired by RAMM's Arctic collections in 2021 and Joy Gregory's installation 'The Sweetest Thing' (2022).
She is currently curating 'Earth Spells: Art in the Anthropocene', which will include new work by Emma Hart, Grace Ndiritu, Florence Peake, and Lucy Stein, inspired by Elizabeth Webb's (the 'white witch of Dartmoor'), cauldron.
'Earth Spells' continues Lara's curatorial practice focusing on the climate crisis. She co-curated the exhibition 'Offshore: Artists Explore the Sea' for Hull 2017 and 'Sea Garden' in 2019, which included Bryony Gillard's new film made in response to RAMM's nineteenth-century seaweed collections in dialogue with film and photography by Dorothy Cross, photographs by Susan Derges and collage by Lucy Skaer, amongst other artists.
Lara studied English Literature/History of Art at the University of York before a diploma in Fine Art and then an MA in History of Art at the University of Manchester. She is a Research Associate at the University of Exeter. 
SHARP
SHARP is a Queer artist, curator and activist, using photography since the 80s and expanding the medium into film, installation and performance. Within their art practice they are investigating and challenging ideas around the Queer Body through their personal gaze.
SHARP recently co-curated the Arts Council Collection Queer exhibition 'SEEN' at Newlyn art gallery and The Exchange in Penzance Cornwall. where they also exhibited a new audio-visual arts work, 'there will be no landing at the lighthouse tomorrow'. This new work combines video, field recordings, spoken word and photography that connect moments in Queer and personal histories via shifting landscapes. The Queer body is explored in multiple time periods and landscapes through a lens of restriction, suppression, and personal freedom. 
SHARP has works in national and private collections, most recently 'Corroding Towards Dusk', acquired and currently exhibited at Cartwright Hall in Bradford, West Yorkshire, and the photographic series 'Dancing with Elvis', 1999-2021, acquired by the University of Salford art collection, which will be exhibited later this year.
SHARP is currently based at Krowji and is working on new works to be exhibited in a group Queer Exhibtion at Yorkshire Sculpture Park as part of 'Summer of Love'.
SHARP has previously exhibited and performed at The Gallery 78 in Reykjavik Iceland, VOID Derry, Whitworth Gallery Manchester, Manchester Art Gallery, Deptford X Festival London, HYPERLOCAL Festival Buenos Aires, Silent Barn New York, Exchange Rates New York.
SHARP is co-founder of DECODER, an artist-led LGBTQIA+ organisation based in West Cornwall
Susie Gray
Susie is a freelance professional writer originally from Zennor in Cornwall. She writes predominantly within the Social Justice genre for both individuals and organisations. Her career began in youth and community work and she has co-founded two frontline youth work charities, Trelya (based in Penzance) and Nottingham CYF Project. Over the years Susie's work has transitioned from direct delivery to writing, predominantly the creation of written accounts that accurately articulate current and emerging needs of those affected by high levels of social exclusion. A significant proportion of her work is grant writing  for marginalised communities, including inner-city communities of colour, migrant communities and communities falling into the top 10% most deprived in the country. This work includes social justice writing for communities that are underrepresented in the arts, making a case for diversity in the arts and arts as a tool for social change. Until May 2021 she was based in rural Midwest USA, where she spent seven years living and traveling. In March 2022 she will begin a one-year mentorship with Social Justice writer Dr Maggie Sokoilik, Creative Writing Director at UC Berkley, California.
Kevin Hunt
Kevin Hunt is a Liverpudlian artist and lecturer currently living in Salford/Manchester. Predominantly sculptural, his practice incorporates various printing and manufacturing processes to make installations of works that consider alternate social and functional histories/futures for everyday objects, motifs, spaces and places – often from his own Queer perspective. At times the work itself has a social use too, acting as a kind of 'backdrop' (blending in) to a variety of activities or working situations, whilst a colloquial use (or mis-use) of language informs wall-based reliefs/assemblages and other object-based works.
He is currently working towards a solo exhibition this summer at KARST in Plymouth, Devon, bringing together several strands of his practice in a gallery setting for the very first time. Major new bodies of work (including wall-based sculpture, architectural intervention and small functional objects) rooted in his lived experiences and interactions within municipal post-war architecture, will be made on-site whilst living and working in Plymouth in the months preceding the exhibition. A publication will also accompany the project, the artist's first published catalogue. 
Céline Holman
Céline Holman is a curator, producer and project manager who has led a number of commissions and exhibitions across Cornwall at the Eden Project and now at Cornwall Council. 
Whilst at the Eden Project, she was responsible for the production and delivery of new commissions, artistic programming and the permanent collection.
She has managed numerous funded arts projects (ERDF, Wellcome Trust, Arts Council England, Garfield Weston Foundation). Céline has commissioned large-scale artworks such as Studio Swine's 'Infinity Blue' (2018) and Alexandra Daisy Ginsberg's 'Pollinator Pathmaker' (2019). Currently she is working with artist Emma Smith to deliver her new public art commission, 'Gwelen', a site-specific artwork for Mount's Bay near Penzance. 
Dean Knight
Combining sculpture, painting and drawing, Dean constructs open-ended narratives that intersperse the primitive, the comedic, the seductive and the grotesque. A self-conscious and tongue-in-cheek take on an obsessive and objectifying male artist is explored, along with the role of the gay man as clown or peripheral deviant. 
Solo exhibitions include 'Modern Sculpture', Project Space 11, Plymouth, 2010 and 'It's Not Me, It's Shoe', CMR Project Space, Redruth, 2019. Dean has spent the last year developing work for a solo exhibition at Auction House, Redruth in March 2022, funded by Arts Council England. 
Sophie Mellor
Sophie Mellor has developed a collaborative practice over the last fifteen years, working across disciplines but with a specific interest in art and social transaction. Sophie works as part of Close and Remote with Simon Poulter. They have established a national practice, working on commissions with a range of organisations, such as FACT, Creative Barking & Dagenham, Essex Cultural Diversity Partnership and Home Slough. Some recurring themes in their work are unusual places, assisted serendipity, guerrilla watercolours, home-brew virtual reality and what they call 'tiny spectacle'. Their works are observational, not attendant to one method and often based on research. Projects include 'Days Like These' (2019), a series of 360 degree watercolours of Jaywick Sands, which became the world's first Virtual Reality Watercolour Tour of Jaywick Sands, using open source software; 'Life Chances (2015), a co-authored experimental novel with Universal Credit as a central storyline, co-created with low-income families in Bristol and Cardiff, which also encompassed a collaborative jewellery business and a game based around transactional analysis; 'Zone' (2014) a moving film set on a former rubbish dump turned nature reserve on the Wirral.
In 2019, Sophie set up Mutiny, with Marcus Romer and Simon Poulter. Mutiny is an art collective that devises and produces large-scale public art works, working across analogue, digital and performance. Recent work with Mutiny includes 'Covid 19 Threads' (2020), a series of short films derived from twitter threads that have appeared during the pandemic; 'Locus Solus' (2020), a live interactive performance in the online gaming platform Roblox; 'Future and Form' (2020), working with three writers as part of the University of East Anglia's celebration of 50 years of their Creative Writing course.
Daryl Waller
Daryl Waller is an artist from Cornwall who is currently based in Bristol. He graduated from the  Royal College of Art  in 2003 with an MA in Visual Communication and has an illustration degree from Hereford College of Art & Design.
His work encompasses painting, drawing, printmaking and site-specific installation plus video, animation and music. He has exhibited his work in London, Cornwall, Berlin, San Francisco and Shanghai. He was represented by the Millennium Gallery (renamed  Anima Mundi ) in St Ives, Cornwall from 2010-15.
He creates artworks of isolated moments that hint at an extended narrative, often borrowing images / text from old books, the Internet or songs which are used as starting points. He is interested in combining unconscious / freeform work with existing imagery or text.
He has worked on music promos and album covers for Lou Barlow (Sebadoh & Dinosaur Jr fame), The Loose Salute, Jason Lytle (Grandaddy) and Darren Hayman (Hefner). He held a position as an associate artist at Kneehigh Theatre from 2010 to  2021 and was their illustrator / designer / animator from 1999 to 2021.
In 2011 he founded the label Flawedcore Records and released his debut album 'The Baby Blues' in 2015. The label continues to release the sound /music work of visual artists such as David Sherry and Alex Fletcher, as well as an improv collaboration project with his young daughter, called Tummy Dirt.
Daryl is currently returning to his art practice with renewed focus, after a long hiatus being the main caregiver for his daughter.