Profiles
Christina Mackie
Christina Mackie is an internationally celebrated artist, best known for her composite sculptural installations, which unite disparate elements in a state of temporary synthesis. These elements circle subjects that have in the past included: environment, ecology (Xing, 2004), pervasive data (Filters, 2015), surveillance (Bloop, 1992), the pleasure of privacy (Foo, 1994), analogue vs. digital (Petalhead, 2003), science and the transgenic (Intron Image Project, 1999), power and the family.
Christina is a visiting tutor at University of the Arts Chelsea, University of London Goldsmiths, and the Royal Academy Schools. She has also taught at UAL Central St Martins, UCL Slade, SFU Vancouver and VCA Melbourne.
Born in 1956 in England and raised in Canada before relocating to London in the 1980s, Christina Mackie has exhibited extensively, with recent solo exhibitions including The Duveen Galleries, Tate Britain, (2015), Praxes, Berlin (2015), The Renaissance Society, Chicago (2014), Kunsthal Charlottenborg, Copenhagen (2012) and Chisenhale Gallery, London (2012). A monograph on her work, supported by the Contemporary Art Society, UK, was published in 2015.
Judges III, Nottingham Castle Museum, 2012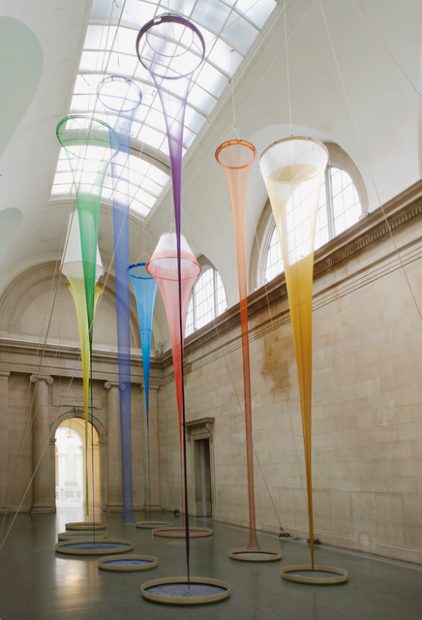 The Filters, Installation View, Tate Britain, London, 2015
heraldst.com/christina-mackie/
Chris Fite-Wassilak
Chris Fite-Wassilak is a writer and critic based in London. He is a regular contributor to art publications and the author of other writings on dry cleaning, speech bubbles and abandoned sculpture parks. He is the co-organiser with artist Anne Tallentire of the quarterly event hmn.
Fite-Wassilak is also a regular contributor to Art Monthly, Art Papers, ArtReview and Frieze, and his writing has also appeared in Apollo, Artforum.com, Art in Australia, Circa, Monopol and Rhizome.com. Publications include Out of Time, Out of Place: Public Art (Now) (ed. Claire Doherty, Situations and Art/Books, 2015), Curating Research (eds. Paul O'Neill and Mick Wilson, Open Editions, 2014), and Ahali: An Anthology for Setting a Setting (ed. Can Altay, Bedford Press, 2013). His short book of essays Ha-Ha Crystal is published by Copy Press.
Participants
Twelve participants were selected from the open submission: Gemma Anderson, Gina Buenfeld, Tabatha Andrews, Polly Gregson, Neil Hamon, Liam Jolly, Marcus Bo Lanyon, Rosanna Martin, Kyra Norman, Nina Royle, Ben Sanderson and Katie Schwab.
Gemma Anderson
Gemma Anderson studied Fine Art and Printmaking at the Royal College of Art and Falmouth University. She has collaborated on a number of innovative art/science projects including 'Hidden Geometries' with the Mathematics Department at Imperial College London; 'Isomorphology' with the Natural History Museum, London and the 'Cornwall Morphology and Drawing Centre' at CAST. She is currently Co-investigator on the Arts and Humanities Research Council project 'Representing Biology as Process' at the University of Exeter and Associate Lecturer in Drawing at Falmouth University. Her new book 'Drawing as a Way of Knowing in Art and Science' (Intellect Press) will be launched in October 2017.
Gina Buenfeld
Gina Buenfeld is Exhibitions Curator at Camden Arts Centre, London. Her research interests situate experimental music, abstract art and plants in a configuration that advocates for non-rational, feeling-led encounters with art. During a sabbatical in 2017 she conducted field research into the use of sound as a channel of communication with algae, plants and fungi in an attempt to appreciate their ontological significance to human thought and awareness. This focused on specific practices of the Shipibo-Conibo people of the Amazon basin, Sami shamanism in Finnish Lapland, and pre-Christian traditions in Ireland and the South West of England.
Between 2014-15 Gina was curator-in-residence with Arts Initiative Tokyo where she curated 'At the Still Point of the Turning World', reflecting on the theatrical atmospheres of Noh and Butoh, featuring Manon de Boer, Joachim Koester, Simon Martin, Ursula Mayer, Jeremy Millar, Jesse Wine and Caroline Achaintre. Gina graduated from the MA in History of Art (20th Century) at Goldsmiths College in 2004 and was previously Director at Alison Jacques Gallery, London.
Tabatha Andrews
Tabatha Andrews makes sculpture exploring perception, memory and the energy of materials. In 2015 she ran an Arts Council-funded project 'Among Remote Lost Objects', an exploration of resonance involving the blind opera singer Victoria Oruwari, composer John Matthias, and a sound-deadening chamber, showing at ROOMartspace London and KARST Plymouth. She has just completed two public sculptures for the Dementia wards of Chelsea and Westminster Hospital in London, made in collaboration with dementia patients and the wood-turners of Devon and Cornwall. Andrews studied at Glasgow School of Art and the Slade School of Art. She is an Associate Lecturer at Plymouth University.
Polly Gregson
Polly is a writer and researcher who specialises in eco-criticism and science fiction. Since graduating from MA in Critical Writing in Art & Design at the Royal College of Art last year, Polly has been in residence with Akademie Schloss Solitude, where she created an online archive of future relics, and with CAPC, Musée d'art Contemporain in Bordeaux, where she undertook a research project on the radical publishing house Beau Geste Press. She has now moved back to live full-time in Cornwall and is working as an environmental researcher with Eden Project International.
Neil Hamon
Neil Hamon grew up on the Channel Island of Jersey. He studied Sculpture BA at Central St Martins before going on to complete an MA Fine Art course at Goldsmiths University in London. His practice combines photography, sculpture and video to investigate perceptions of time, memory and narrative.
In his work there is often a focus on methods of production that are antiquated and outmoded, such as mirror making, glass-plate photography, taxidermy, long wave radio broadcasts and historical re-enactment.
Liam Jolly
Liam Jolly is an artist and musician currently based in Redruth, Cornwall. He works across installation, video, performance, painting and public intervention.
His works consider the relationships between language, knowledge and visual experience and more specifically the shift in meaning that takes place between a fiction and reality. By treading a fine line between these opposing concepts and playfully questioning the material, mechanics and structures of when something is considered an art work and when it is not, he likes to make us question our perception of reality in unexpected or subversive ways.
Marcus Bo Lanyon
Marcus Bo Lanyon is an artist and curator.  He was born in Cornwall and studied at the Royal College of Art. Co-founder of the Ingot Sculpture Prize, he is also the Artists' Programmes Coordinator for Spike Island, Bristol. His work focuses on the disquiet that defines our lives now and explores the climate of personal, social and political tension that this creates.  Rooted in ideas of the Anthropocene (the 'Human Epoch') and our rapidly changing relationship with the natural world, he uses a range of materials and media across painting, drawing, sculpture and text.
Rosanna Martin
Rosanna was born and grew up in Cornwall. She studied for a BA in Ceramics in Cardiff, which she followed with an MA in Ceramics and Glass at the Royal College of Art. Her practice takes the form of an experimental investigation into ceramic material properties, producing small-scale sculptures, wall pieces or site-specific installations.
Alongside her own practice she has worked as an art facilitator in a variety of settings. She has recently set up b.r.i.c.k.w.o.r.k.s., a ceramic studio in Penryn that offers participatory events, workshops and open access facilities for making with clay.
Kyra Norman
Kyra Norman is an artist and researcher working in dance, theatre and film since 1998.  She approaches her work with an expansive sense of choreographic possibility and a commitment to bringing dance into conversation with the world around us.  Alongside her work as a choreographer and writer, Kyra is a Lecturer in Dance & Choreography at Falmouth University and also works as a project manager for interdisciplinary arts events.  Her PhD (2006 – 2015, University of Bristol) considered the screen as a site for choreographic practice and opened out into involvement in a wide range of UK and international art works, publications, research events and conferences.   Current research interests include dance on screen, site-based performance making and interdisciplinary collaboration.  She is based on the Lizard, Cornwall.
Nina Royle
Nina Royle is primarily a painter, although her practice is increasingly incorporating a variety of different media and working methods, including writing, installation and performance. Her work explores relationships between body, land and language. She was born in West Penwith and has recently moved back after living in London for twelve years. In London she completed studies for both a BA and MA in Fine Art, at the Slade School of Art.
Ben Sanderson
Ben Sanderson is a painter whose work explores relationships between history and non-linear time. He is interested in exploring how an over-saturation of information can give rise to fleeting synaptic connections and feelings of distraction and repetition.
Ben is one of sixteen artists based at CAST in Helston, Cornwall. He is on Syllabus III, a peer-led roaming study programme. In January 2017 he was artist-in-residence at Crossroads, a Dementia Care Home in Scorrier. Recent exhibitions include 'What Is This place?', Newlyn Art Gallery, Cornwall; 'Smile Orange', Cubitt Gallery, London and 'Testing Tropes', Kestle Barton, Cornwall. In collaboration with Ella Fears he has just completed a commission for Tate St Ives in the new Sky Clore Studio.
Katie Schwab
Katie's practice interweaves personal, social, and craft-based histories, often drawing from traditions of living, making and working collectively. Her installations incorporate embroidered, woven and printed textiles, ceramic tableware, furniture and videos, drawing on the colourful abstract forms of twentieth-century modern design.
Recent exhibitions include 'Jerwood Solo Presentations', Jerwood Space, London (2016), Making the Bed, Laying the Table, Glasgow Sculpture Studios (2016) and 'Together in a Room', Collective, Edinburgh (2016). She was the recipient of the 2017 Wilhelmina Barns-Graham Residency at Porthmeor Studios, St Ives and will be undertaking the Design Residency at Plymouth College of Art, 2017-19.